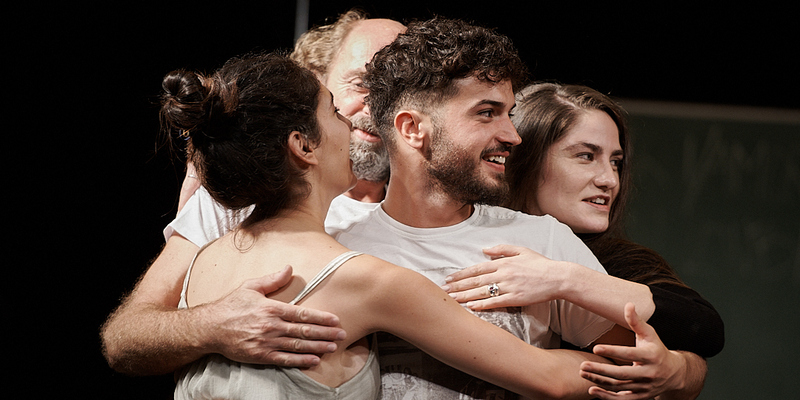 Online - Adriatic-Ionian Theater Festival You Tube Channel
Conversations about love will close the Montenegrin week of the Adriatic-Ionian Festival
Overview
On Sunday 14th of March at 7 pm, the Royal Theatre Zetski dom will perform the theatre play Conversations about Love, directed by Jernej Lorenci. The theatre performance is created in co-production of the Royal Theatre Zetski dom and Slovenian National Theatre (SNG Drama Ljubljana). 
The play gathered international ensemble of actors: Barbara Folchitto and Daniele Gaggianesi (ITA), Kris Lleshi and Matia Lupa (ALB), Srdjan Grahovac, Karmen Bardak and Jelena Laban (MNE), Zvezdana Novakovic, Marusha Majer and Janez Skof (SLO). 
Conversations about Love is developed by an international group of artists from four different countries. The play is developed as a non-text based performance, through the stage-centred approach typical for experimental forms of postdramatic theatre, in which traditional theatrical hierarchy between playwright, director and the actors does not exist, but the entire process is subjected to the stage, developed from concrete work within the group. 
The play is staged without a title and centered around love as one artistic vision. It was created within the ADNICH project and premiered on 14th September 2019 in the Royal Theatre Zetski dom.
The free streaming starts here at 7 pm. Duration 180 minutes.