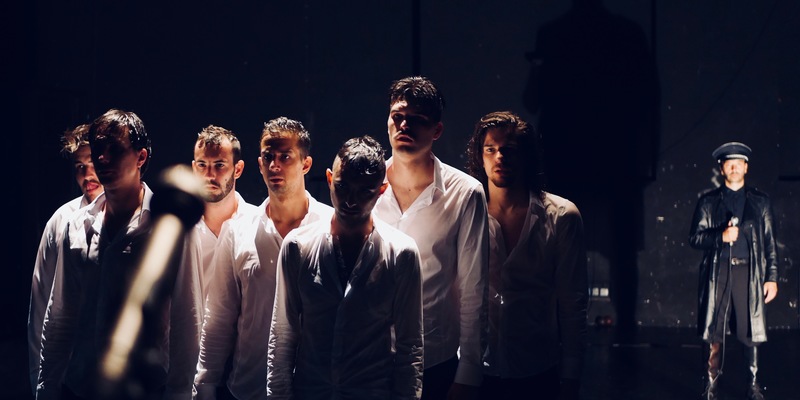 Online - Adriatic-Ionian Theater Festival You Tube Channel
Sailors' Rebellion live on the 12th of March 2021
Overview
On Friday at 19h00 the Royal Theatre Zetski dom will perform the play Sailors' Rebellion directed by Diego De Brea and inspired by texts: Die Matrosen von Cattaro / Sailors from Kotor by Friedrich Wolf and The fourth corner by Radoslav Rotkovic.
The play is created as an opening event for the ADNICH project, premiered on 30th August 2018 at the seafront Pine in front of the Jadran ship in Tivat, Montenegro. 
The play gathered international ensemble of actors: Srđan Grahovac (MNE), Atanas Atanasovski (NM), Omar Bajramspahić (MNE), Mak Čengić (BIH), Valentin Kostadinovski (NM), Peđa Marjanović (SRB), Romano Nikolić (CRO), Marko Todorović (MNE), and the Albanian soprano Gjylie Pelingu. The play was created with the assistance of the Filmmakers Chris Lloyd (UK) and Francesco Di Mauro (ITA). 
According to the director De Brea, the Sailors are "a serious story from the edge - capturing the moment where society transforms into an animal. The question here is: what was the purpose of the death of these sailors? Perhaps to point out our current inability to react; nothing but a herd of sheep, following en-masse? Challenging us to get out there and react. To take responsibility for the opinions we have".
The free streaming starts here at 7 pm. Duration 90 minutes.
View the poster: POSTER.pdf